The Power Cable Splitter is a really useful bit of kit, it allows you to take a single power feed and distribute it amongst more than one device, for example you can take one feed, split it then power both a camera and the recorder.
This can be used with any of our power supply options including battery packs and direct feeds from your vehicle.
The Splitter cable is available in 2 forms:
'1 to 2' (power 2 devices)

'1 to 4' (power up to 4 devices)
Remember you can always add the splitter cables together too, 2 x '1 to 2' splitter cables would effectively give 3 spare outputs for example.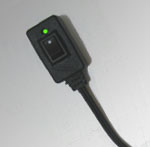 A much requested item. The new LED Power Switch can be connected into your power wiring giving you total control.
Often if taking a feed from your bike or vehicle you'll need to disconnect the connectors at some point to avoid the camera equipment draining your battery when not in use. Alternatively if its an everyday vehicle chances are you don't want your cameras running all the time.
The LED Power switch is a simple but effective solution that solves those problems with a simple ON/OFF switch and gives you the green light when your equipment is ON!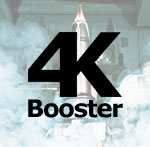 Our Booster pack consists of a an extension lead for both the video and power connections from the camera. It is available in 3 lengths:
1 metre
2 metre
3 metres
5 metres
Using the 4K Booster extends your cabling allowing you to mount the camera in hard to reach areas while having your battery pack and recording device in a more convenient place.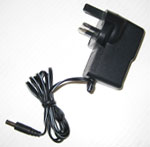 Power your bullet camera, DVR or Quattro switcher unit from any 240v power socket.
Ideal solution if you are setting up your equipment or wish to use it in a fixed location. Saves on batteries too!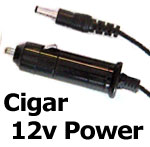 If you are using your camera for track days or any other vehicle use then take the easy option. Power your camera using our special Camera Cigar Power Supply
It simply connects to the power input on your camera with the other end plugging into the cigar lighter socket in your car.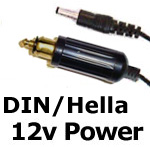 Camera Power Supply Hella /DIN / BMW plug
Like the Cigar Power Supply adapter above but with the special mini DIN plug. This Hella / DIN plug is as used on BMW motorcycles.
It simply connects to the power input on your camera with the other end plugging into the Hella / DIN socket as fitted on BMW motorcycles.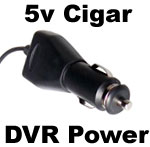 If you need to recharge your DVR on location or wish to power it while on the move then our DVR Cigar Power Supply is what you need.
It simply connects to the DC input on the recorder with the other end plugging into the cigar lighter socket in your car. When ordering remember to select your model of DVR from the drop down list to ensure you receive the correct fitting.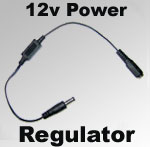 If you are tapping into an unregulated 12v feed on a vehicle or connecting directly to its battery you may require a voltage regulator.
Our 12v Power Regulator will protect your bullet camera or other equipment from power surges by ensuring that no more than 12v passes through it. A separate regulator is required for each device.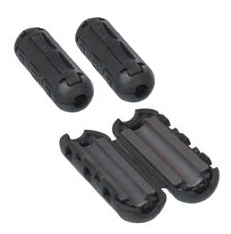 Ferrite Beads / Ring Core Pack
Improve video signal integrity with our ferrite bead ring core pack. These amazing beads clamp around your video cable(s) and will help eliminate any electro-magnetic interference.
If you have been having problems with lines on your picture or similar interference, perhaps caused by other vehicle electrics etc then try a set of these beads. They are easy to install on your system and can be reused too as they are removable.
Supplied in packs of 3.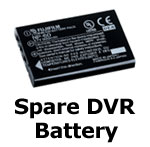 Replacement lithium battery for use with your DVR. Ideal if you need to continue using your recorder when the power has run down and you haven't got time to recharge it.
Simply eject the battery in the DVR and replace with a fully charged spare one. Please remember choose your model of DVR when ordering.
NB DV2 and DV3 models have built-in batteries and are not compatible.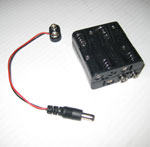 Replacement 12v battery pack as supplied with bullet cameras.
Battery pack includes lead with camera plug fitting and PP3 clip for battery box connection. The battery box is available in 2 sizes AA and AAA.
(batteries not included)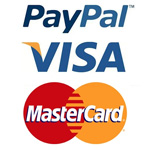 4K Systems
Colliers Street Works
Colliers Street
Oswaldtwistle
BB5 3DE
United Kingdom

Contact Us
Access to and use of this website is subject to our Terms & Conditions and Privacy Policy
© 4K Systems, 2006-2021. All rights reserved. 4K Systems is a member of the 4K Group and part of Cloud39 Ltd.
4K Systems Rated 5 / 5 based on 73 reviews.