If you are looking for a complete HD filming package that includes the DV4 HD, a camera, and mic then checkout those available here.
A full HD quality clip recorded with the DV4-HD can be seen here.
Overview
The DV4 HD is the ultimate solid state DVR offering all the best features of our other DVR models along with stunning HD video. The following table helps list some of the main features.
DV4 HD Key Features

Recorder
Records video and audio directly from mini bullet cam and mic.

Solid State
No moving parts means no problems with vibration or shocks.

Built-in Monitor
LCD display - vital for camera setup and playback.

Remote Start
Start and stop the recording remotely using the wired control.

PowerStart Enabled
Automatically start recording when you turn the ignition key on your car or bike using PowerStart.

HD Multi Resolution Video
Choice of HD recording resolution settings including 1080p and 720p.

HD Photo Mode
Capture super hi resolution HD photos in quickfire mode.

Small and Light
Small enough to fit inside a packet of cigarettes. Weight just 80g with battery.

EcoPower Battery
EcoPower allows the DV4 HD to run for longer on one charge.

16GB Memory
Included 16GB memory will give you 2 hours of full HD quality footage and is ready to use out of the box.

Expandable Memory
Record for even longer using additional micro memory cards (max 32GB).

12v Hookup Ready
Can be powered directly from your car or bike whilst on the move.

Connect Enabled
Let the DVR power the camera too when using one of our HD cameras.

Multi Playback
Choice of playback functions including HDMI TV-Out, PC and on-location.
If you don't yet have a camera then checkout our selection of Action Ready Package™ which include everything you need to get started.
| | |
| --- | --- |
| Specification | |
Solid State
The 4K DV4 HD has no moving parts which makes it more reliable than camcorders or hard drive recorders when subjected to shocks or vibrations. Excessive movement suffered by mechanical devices can lead to a recording being lost or could even cause damage to unit itself.
Recording
Our HD cameras connect to the DV4 HD via the HD CAM socket. There is a choice of recording resolutions including:
HD 720p Resolution: 1280x720 (60/50/30/25 fps). Recording time:1 hour per 4GB

HD 1080p Resolution: 1920x1080 (30/25 fps). Recording time: 1 hour per 8GB
Activating the Recording
The DV4 HD has three methods of activation (power on/off and start/stop video recording):
| | | |
| --- | --- | --- |
| Recorder activation | - | using the buttons on the DVR itself. |
| Remote activation | - | using the wired remote control. |
| PowerStart activation | - | automatic startup and record controlled by your vehicles ignition system. |
In order to use the PowerStart activation facility on the DV4 HD you will need a 12v Connector to wire into your car/bike electrics and the DV4 5v adapter. Also available as a package in the Car or Bike Power Kits. Alternatively if you have a cigar power socket on the vehicle you can get our Car Cigar Adapter.
Using one of these adapters when the DV4 is in PowerStart mode will mean the DV4 starts up and begins recording automatically as soon as it receives a live power feed. When the power feed is turned off the DV4 will stop recording and shut down. Use of a power adapter will also allow you to charge the DVR on the move and therefore record indefinitely.
General
Video is recorded at a high frame rate of up to 30fps and is saved into the recorders memory. This memory is also expandable up to 32GB with extra high speed memory cards should you wish to record for longer.
The built in colour monitor (2.5" inch) makes the 4Kam easy to set up as you can see what the camera sees. Being small enough to fit inside a packet of cigarettes (78 X 55 X 20mm) and extremely light (80g), the DV4 HD can easily be slipped into your pocket or bag.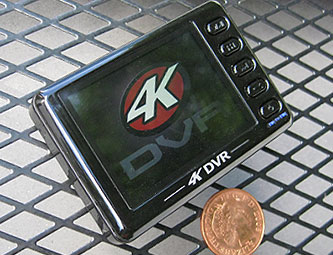 The DV4 HD shares the same dimensions as the DV4 Evo above!
Playback
Once you have recorded the footage there are a number of playback options.
DVR. You can easily watch back the footage while still at the event on the recorder itself. Video selection, fast forward, rewind play and pause are just some of the functions built in.
TV. The recorder can easily be connected up to a TV for playback using a HDMI cable .
PC. The video can easily be uploaded to your computer via the USB cable. From there you can edit it, play it or even upload it to the internet!
The Kit
The DV4 HD comes complete with 16GB of memory, remote control, battery pack, wall charger, USB cable and user guide.